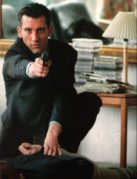 Director – Matthew Evans
Writer – Mick Ford
Stars – John Salthouse, Aide Allen, Colette Brown, Roberta Taylor, Anton Lesser, Danny Webb, Jeff Rawle
This time the episode is not based on one of the books. It starts in a bank which is visited by a dodgy looking chap (Danny Webb, seen in Alien 3 and the Leslie Grantham show 99-1 which also stared Aide Allen) who is using the bank to launder money. The bank's manager wants to hire Sharman to find out who the launderers are.
Nick and Dawn get married and the wedding scene is cut straight out of the book Pretend Were Dead and works extremely well on the small screen although there is no pub fight.

Sharman gets to use some guns this time, two of them in fact so Clive Owen will probably be in a John Woo film some time soon. (I was right, John directed Clive in The Hire). Some great American cars in this one.
This is a good episode, there was about 10 other books they could have used at the time so why they made up this one I don't know. It is a shame the series did not follow on. Or even maybe as a film or series of films as then the drugs/sex/violence would be closer to the books and would be policed as to who sees them.
Availability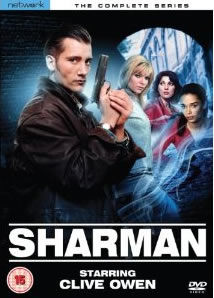 Sharman: The complete series is available on DVD. The DVD contains all episodes, including the pilot episode The Turnaround.