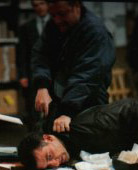 Director – Matthew Evans
Writer – Dusty Hughes
Stars – Ray Winstone, Aide Allen, Colette Brown, Hugo Spere, John Salthouse, Roberta Taylor, Kelly Reilly
This episode filmed the first book, but is the fourth episode. The basic plot is identical to the book, but introduces Dawn and Tracey (AKA Sandy and Mandy). It starts with Nick in a club watching the two dancers, after a scuffle with Dawn's Manager Nick takes them home to his flat. He agrees to drive for them. He then meets George Bright (Ray Winstone), who hires Sharman to find his missing daughter Sophie (in the book its Patsy). He starts the case by interviewing Howard, a sleazy drugged up photographer (played by The Full Monty's Hugo Spere) who gives Sharman the names of some clubs she used to haunt. He finds a lad running away (the lad is played by Mike Baldwin's son in Coronation Street), who tells Sharman Sophie gives away high-class drugs for free. The plot thickens. At this point its obvious that Nick wouldn't mind getting jiggy with Dawn.

At the club Nick gets a phone call telling him where he can find Sophie (Kelly Reilly), he goes and finds a dead girl just before he gets knocked out. He wakes up in hospital to hear the news that its Sophie is dead. Or is she?
There are also two American cars in this one.
In my opinion this is the second best episode after Hearts Of Stone, what do you think?
Availability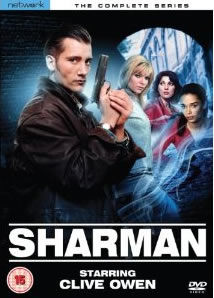 Sharman: The complete series is available on DVD. The DVD contains all episodes, including the pilot episode The Turnaround.