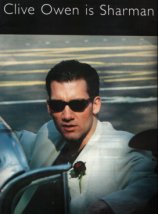 1995 saw Nick Sharman arrive in a new medium, television; in the guise of Clive Owen who at the time was best known for his role in Chancer.
The Sharman television series produced by World Productions started in 1995 with The Turnaround, then a year later four more episodes were screened.
In this section of the website you can find out more about the episodes, read interviews with the cast and crew, and view press materials.
Sharman: The complete series is available on DVD. The DVD contains all episodes, including the pilot episode The Turnaround.