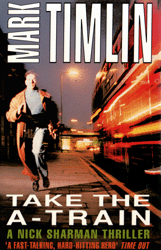 Book title: Take the A-Train
Author: Mark Timlin
Type: Paperback
ISBN 0-747-23699-2
Publisher: Headline
This one starts with Sharman in hospital; he has been there for four months since the last book. He is visited by a page three girl called Fiona, who drives a bright yellow spitfire. She persuades Nick to move in with her, so she can look after him (doctors and nurses with a page three girl). So just as he starts to walk about again, he is hired by Emerald Watkins (A Good Year For The Roses). It turns out that Em is being set up after a stash of coke is found in one of his lock ups. Sharman has to help Em's nephew find out what happened, so that Em can get out of the slammer.
Wanda the catwoman (Romeo's Tune, The Turnaround) also makes an appearance in this one; she puts Nick up when the shit hits the fan. We are also briefly reintroduced to Nick's only friend on the force DI Endesleigh.
Nick is also offered a job by a man called Jack Dark, he sends Nick some cash and asks for a meet. When Sharman refuses to the take the job, the guns come out and he has to escape from an Indian restaurant before he becomes a bahgee. Oh, and top it off Nick wakes up in a flat with dead people and now has to clear himself of murder. Nothing is ever easy in a Sharman book (maybe that's the appeal).

Alternative editions