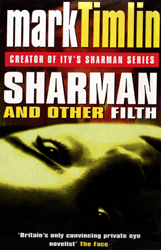 Title: Sharman and other filth
ISBN: 0-575-60101-9
Paperback
Published by: VG
This book is a collection of short stories by Mark Timlin.
All but one feature Nick Sharman. Too Late Blues, the exception, was Mark Timlin's idea for an episode of The Bill. It is also accompanied by a long story called Filth, which follows the vein of a Sharman story.
The Sharman stories are: Ai No Corrida, Night Moves, Sweetheart Of The Rodeo, Christmas (Baby Please Come Home), Victoria, Don't Fear The Reaper, By Hendon Central Station I Sat Down And Wept.